Top 10 Kettler Treadmills
If you want to maintain your physical fitness, increase your concentration ability, and promote your mental, psychological, and emotional well - being then: walking and running are ideal ways of exercising. Do you wish to avail the opportunity of doing exercise in your own comfort zone?
YES! A Treadmill or a running machine is a very effective and convenient way of exercising in our own space i.e., being indoors. Whatever be the weather conditions or a hectic schedule of work, you need not have to cancel your daily walk and run.
Other benefits of this machine are that it lets you perform other activities also along with exercising like reading books, watching TV etc. It helps to burn calories faster than any other fitness equipment.
Now what are the best treadmills for you?
We are here to guide you, Kettler treadmills are one of the best brands of treadmills.
Kettler treadmills have some amazing features, they have some Kettler special features, amazing motor speeds, they offer a superior range of features for intensive cardio, long distance running and fat burning workouts, reasonable price for most of the treadmills.
But to get help in choosing the best option for you, we have listed 10 best Kettler treadmills below so that you can look upon their features and choose your best pick.
Kettler Treadmills - Keep Yourself Fit
We have reviewed and listed 10 best Kettler treadmills below:
Kettler Marathon TX5 Treadmill has continuous duty 3HP motor, 12mph top speed ,3D black matrix display type computer, USB interface, 4-person memory and the EASY ROLLER system that turn the TX5 into a premium class treadmill, 150 cm running surface, a particularly gentle-on-the-joints belt for that high level of workout comfort, have new training software Kettler World Tours 1.0, 10 individual programs, 16 fixed programs and 8 heart rate-controlled programs. Quick start and direct choice keys for speed and incline, hand pulse sensors or chest belt, 150kg weight capacity, warranty-3 year on site parts and labor.
Price – $1599
2. Kettler Sport Arena Treadmill
Kettler Sport Arena Treadmill is one of the best home use treadmills. It has one of the slowest starting speeds (0.3 km/h) on the market, making it ideal for recovery as well as complete beginners, offers seven HIIT (high intensity interval training) programs, high maximum speed (18 km/h), foldable treadmill, warranty- fully shock absorbed deck, comes with a 3-year parts and labor warranty including lifetime on the frame and motor.
Price – Under $1000
Kettler Pacer Treadmill is one of the most selling treadmills. It has 1.6 HP motor, a maximum speed of 16kph, LCD with a continuous display of 6 functions, 6 pre-installed programs to track your fitness regime, Hand pulse sensor, Integrated POLAR receiver and hand sensors for pulse measurement, shock absorbers ensure low impact, Max user weight: 120kg, warranty- parts 3-year, labor 3 year.
Price – $ 1480.00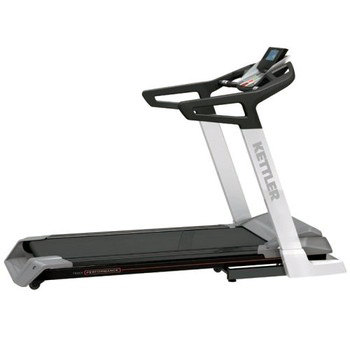 Kettler Track Performance Treadmill has Training computer with 3D Black-Matrix display and USB interface, prior settings possible, strain profiles and person memory, EASY ROLLER system, FLAT DECK and 145 x 51 cm running surface, High-performance electric motor with 2.5 hp continuous power, 16 different workout programs to choose from and the maximum speed allowance is 17.5 km/hr. or 10 mph, Chest belt for wireless pulse-rate monitoring, weight capacity of 140kg warranty- 3 years part and labor.
Price – $2142.71
5. Kettler Atmos Pro Treadmill
Kettler Atmos Pro Treadmill has a sleek professional appearance. It has includes the MP3 connection, the built in loud speakers and the Bluetooth controlled entertainment system, a 16 point cushion system to help reduce the levels of impact on your joints, 30 programmes to choose from and the LCD screen display functions outline the weights, inclines, speed, times taken, distances travelled, calories burned and pulse and heart rate monitoring, a 3.0 horsepower, speed up from 1 to 20kph, maximum user capacity of 160kg, warranty- Lifetime frame and motor, 3 years parts and labor.
Price – 603.18 Us Dollar
6. Kettler Track S10 Treadmill
Kettler Track S10 Treadmill is the best model in the Track series. It has an AC motor, 4 hp continuous output, Speed: 0.5-22 km/h, Equipped with the KETTLER "Energy Deck", High Quality Training Computer with user-friendly menu navigation, Foldable running surface with Soft-Drop mechanism, maximum weight capacity of 175kg, 190x110mm LC Display, Interconnectivity possible with Sports APPs Sports Timepieces and Heart Rate Monitors via BLUETOOTH, warranty- 3 years parts and labor.
Price – 3,439.76 Us Dollar
7. Kettler Marathon TX1 Treadmill
Kettler Marathon TX1 Treadmill is a serious treadmill and boasts an impressive list of features. It has 2.0HP Continuous output (5.0HP Peak, Hand pulse grips or chest belt. Integrated Polar®-compatible receiver, Training computer with 4 training programs plus 1 pulse-controlled program. LED display for time, speed, calorie consumption and pulse, and graphic display of gradient and speed, running speed from 1–16 km/h in steps of 0.1 km/h, the deck can be folded up when not in use,Extra Large 140 x 51cm (56" x 20.5'') running area, has 2 cup holders, maximum user weight of 150kg, warranty- 3 Years Parts &Labor Warranty.
Price – Will Be Updated
8. Kettler Track S3 Treadmill
Kettler Track S3 Treadmill Powerful motor with 2.5 HP continuous duty, Selectable speed range between 1 and 18 km/h, Selectable incline range 0-15%, Great value cushioning system with 6 large cushions + 2 external honeycombs, Hand pulse sensors, 7LCD Display with blue & orange backlight, Soft Drop system, maximum user weight is 130kg, warranty- 1 year.
Price – $ 1495.74.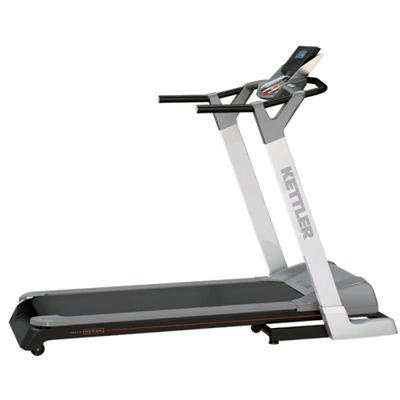 Kettler Track Motion Treadmill have high-performance electric motor with 1.8 hp continuous power, Direct-selection keys for slope and speed EASY ROLLER system, FLAT DECK and 140 x 51 cm running surface, Training computer with 3D Matrix, prior settings possible and strain profiles, including pulse-related training, orange back-lit LCD display for time, speed, distance, energy consumption and pulse rate., Shock-absorbing system, Chest belt for wireless pulse-rate monitoring, Belt-stop safety key, warranty- 1 year.
Price – $1223.75
Kettler Track Experience Treadmill is one of the most advanced treadmills. It has cushioned track, The computer includes 7 functions and 38 training programmes to assist you including heart rate control and fitness recovery tests, has an integrated POLAR receiver and hand sensors for pulse measurement, motor has a 3hp continuous output, and the speed ranges from 0.8-20kph, include an LCD back lit computer with a 3D matrix,light grey/black color, maximum user weight is 150kg, Easy rollers system, warranty- 3 years part and labor.
Price – $1897.65